Scoutmaster Retires, Passes the Torch
on April 6, 2017
Rochester Boy Scouts Troop 31 said a fond farewell to its scoutmaster of nine years, Michael Blanchard, and inducted its new scoutmaster, Kevin "KT" Thompson, on April 3 at the Rochester Grange Hall.
Blanchard was the guest of honor for this special occasion, having been invited as a special guest only to be surprised by a crowd that gathered to honor him for his years of service and dedication to the boys of Rochester.
During the ceremony, the scouts and parent scout volunteers presented Blanchard with a number of gifts, some silly, some sentimental, and the Rochester Firemen's Association was on hand to present Blanchard with an American flag that the Fire Department had flown outside the fire station that day.
Some things spoken about Blanchard that night: apparently he doesn't like to wear socks (but he did that night), he always has his bug spray, and, as Thompson put it, the shoes he must fill are enormous ones – socks, or no socks.
The leader reflections on Blanchard's service given by other scout leaders were, at times, emotional as they read poems that reminded them of Blanchard's character and his contribution to scouting.
Blanchard thanked those who were in attendance and turned to his scouts, saying those boys "…Would forever be my boys."
Before cutting the giant cake with an uncanny likeness of Blanchard on top fashioned out of frosting, Thompson took the oath and the torch was passed from Blanchard to Thompson.
"You are relieved," said Thompson to Blanchard. "I am relieved," Blanchard replied.
By Jean Perry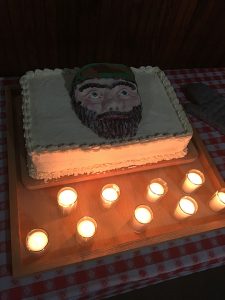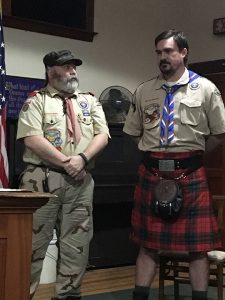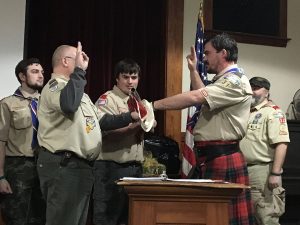 Visit www.wanderer.com for more local stories in Marion, Mattapoisett, and Rochester.
Visit www.bbmpros.com for all your media needs and  get your business noticed on the web.
This blog was posted on www.bbmpros.com on April 11, 2017.